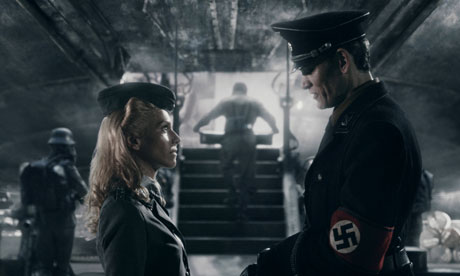 Early on in Iron Sky, there's a scene that is either utterly ingenious, or the Finnish equivalent of Friedberg and Seltzer's unfunny, plagiarising parodies. If you've been using the Internet for longer than a week, the chances are that you're familiar with the Downfall meme, which uses a single scene from the film about Hitler's final days, and manipulates the subtitles to make it appear that he's whinging about current affairs and fanboy niggles. I'm choosing to look at this as a watershed moment in Iron Sky.
The re-staging of the famous scene is based around imperious publicist Vivian Wagner (Peta Sergeant), who's in charge of US President Sarah Palin's 2018 re-election campaign. If, at this point, you get the gag and go along with it, then Iron Sky is a film you're going to enjoy. If you don't like this moment, it's possible that the film isn't all that you thought it would be, from the ingenious logline; "In 1945, the Nazis went to the moon. In 2018, they're coming back."
Iron Sky is released on DVD and Blu-ray this Monday.